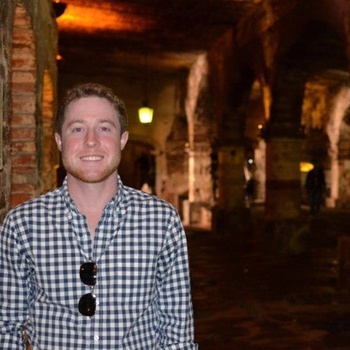 Maxwell Thomas Cobb (August 31st 1988), was born in High Point, NC and grew up in Spartanburg, SC. He has a twin brother, Dylan, and a younger sister, Savannah. The terror that they must have unleashed on Jack & Libby as children is terrifying! I pray that God does not seek retribution through me!

I could spend hours talking about who this wonderful man is and why I love him. Instead I will break it down into the basics:

1 – He's kind of a genius. Max has a Bachelor Degree in Business from the College of Charleston (2010), and an International Master of Business Administration Degree (IMBA) from the University of South Carolina (2014). Go Cocks! He is the first man I've ever trusted to edit my writing or check my equations. Seriously, this is a big deal – he can tell me when I'm wrong, and HE will be right! #SWOON!

2 – He's got skills. Max is crazy talented! He plays viola, keyboard, synthesizer, drums, and (considering we were raised in the 90's) he probably can play "Hot Cross Buns" on the recorder. He's a golfer, a surfer, a fisherman, a captain, and a composer. He shoots trap, plays a mean game of pool, and I've seen him hit one dart in the head with another dart! Also, his homemade bacon, guacamole, and margaritas are just ridiculous!

3 – He's got that Cobb charisma. Have you ever met a Cobb that wasn't loved by EVERYONE? No, you haven't, because it's part of their DNA. Max is this extremely sociable and lovable person that both draws in and is drawn to other people. And not just people, but GOOD people. I've joked about how Max's friend and family base serves as a sort of first-round qualifier for me, but it's 100% true. If you've made it into his circle, you're probably pretty amazing yourself.

4 – Most importantly, he has a really, really cute butt! And face, I really, really like his face!

So basically, Max is this sexy, talented, creative, loveable, artistic, genius. More than any of this though, he was designed perfectly for me. I love him and connect with him in this sore, achy-chest sort of way.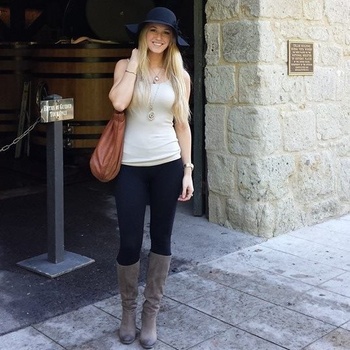 Jamie Lee Weneck (October 19, 1988) was born in Greenville, SC and grew up in Woodruff, SC. Just a stone's throw from Spartanburg, it's hard to imagine that Jamie and I lived less than 25 minutes away from each other for the majority of our lives! From the moment our paths crossed in July of 2012, we have been making up for lost time, squeezing 24 years of missed opportunities into the last 3.5 amazing years.

When Jamie first introduced herself to me (yes, I admit I did not make the first move!) I was obviously flattered, but also a bit surprised. First off, why was such a beautiful girl talking to me? And second, how could this supermodel disguised as an MBA student also be so genuine, sweet and down to earth? Surely something was amiss here!

I sought to test this theory, and after 3.5 years her cover has still not blown! So either she is secretly working with the KGB (for which you must again question, why me?) or we can safely say that Jamie is the real deal!

Yes, it's not hard to see that Jamie is a genuine, beautiful person both inside and out. She couldn't even hide it if she tried. And by the way, did I mention she has one heck of a head on her shoulders? (this KGB thing is starting to look more likely...)

In all seriousness, I am amazed every day at how brilliant, capable, and impressive Jamie is! Her ability to organize, plan, and remember things (I mean, everything!) is unlike anyone I've ever met. That's a good thing too, because it's quite likely that I will need my life saved by her super-human powers at any given moment. For example, it never fails if I turn around after leaving the house, car, etc. and say "shoot I forgot my..." don't look twice, it is already in her hand! You could say then, that Jamie and I complement each other perfectly, however I'm still not sure what she's getting out of it! (shhh!)

Whatever the reason, Jamie has decided that she loves me and that makes me the luckiest man alive. I can only try to give back that love as best as I can (I think I'm doing pretty good, with a marriage proposal right?) Each day is joy with Jamie by my side, and I'm excited to see what life has in store for us next!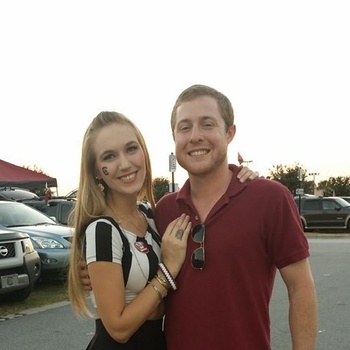 How We Met

You probably don't know this, but I actually picked HIM up! Let me explain...

Max & I started grad school on July, 2nd 2012. We were thrown into so many luncheons, team building exercises, and classes in those first few weeks it's hard to remember! But I remember the first time I really saw Max! The school had split us up by age group into recruiter luncheons - we were the "Youngins" with Fluor. Max was impressing the recruiter with his all experience, knowledge and questions, and charmed me right into a crush!

Fast-forward a week or so to Friday, July 13th! It was the first Friday all the classmates were trying to get together and party, so we all made plans to meet up at Liberty Tap Room in the Vista.

I walk into the bar, and there he is, all happy, and sexy, and stoic, and smart. So, naturally, I made my move. I walked straight across the room to him and informed him that I was single. Without missing a beat, Max says "well, alright then! Sounds like you need a drink" and motions for the bartender!

In all honesty, I decided that I was in love with Max before August ever rolled around. He can vouch for me here.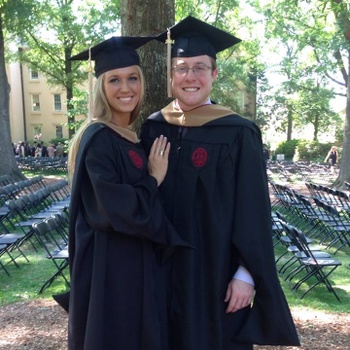 Grad school and our relationship go hand-in-hand, and for me, it was quite literally, the best time of my life.

My first college experience was much more reserved and different than Max's epic College of Charleston days, so I had to learn some important skills my SECOND time around (with help from my obliging mentor). For instance, Max taught me the essential lessons of how to go partying all night but still somehow write and submit an entire essay by 8:00 am. He showed me how ALWAYS choosing friends and a social life over obligations or homework is the better choice and will always, in fact, work out OK. The secret? Less sleep! How had I not thought of that before?

In all seriousness though, our first two years together were slammed full of emotions, romance, music, friends, and school. I remember the bittersweet anticipation we had in the weeks before we both went abroad. The time we spent apart, he in Mexico, and I in Italy, while full of tacos and spaghetti, was also filled with heartache – because 4 months apart seemed SO LONG!

Then a miracle happened – we BOTH got summer internships at Sonoco, in Hartsville, SC. No more time apart! Well I think that Hartsville, SC, must be the smallest most remote town in the universe because there is ABSOLUTELY nothing to do there, but we made it!

During our final year of grad school we lived around the block from "The Publick House" where we regularly ate pterodactyl wings, lost at trivia, and played pool with our besties such as Andy, Aseem, Christine, and Taylor. It was a very happy, appreciated time, and I know we both miss it.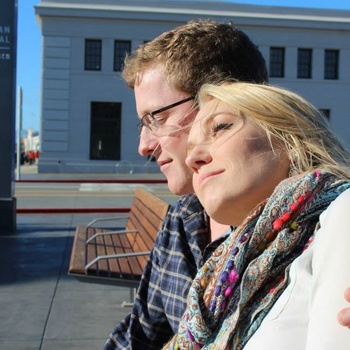 2014 was a BUSY year for us! We finished school, started our grown-up jobs, and moved out of our Columbia apartment and into Limbo. Max went to India for work for a month, while I got to live in Hendersonville with my grandparents. I missed him dreadfully, but LOVED the time with my family.

Our next move was in August, to San Francisco, CA! Max was able to come home for a few weeks so we could find a place and move, but then he went BACK to India. Somewhere in there we adopted 2 precious kitties: Pepper & Cricket. (Don't let anyone tell you that Max isn't a cat person - that's a lie! He LOVES them!) During that time I learned that San Francisco was so pretty and had beautiful "sweater weather", but it was also SUPER EXPENSIVE and lonely. Then, finally, Max came home! I was so freaking happy, it's ridiculous!

Well, I guess his company decided we hadn't quite moved enough because in December they moved us to The Woodlands (Houston), TX. Houston is so freaking BIG – literally it could take an hour to get to dinner without traffic! #CRAYCRAY! We were in Texas for over a year and both decided we really missed home and the Carolinas… There is just something about the Blue Ridge Mountains and Carolina Coast that says "Home".

So, Max & I packed up and hit the road again! Now we live in a 5th floor flat on Main Street in Greenville, SC and LOVE IT! Greeville is amazing and we are so happy here!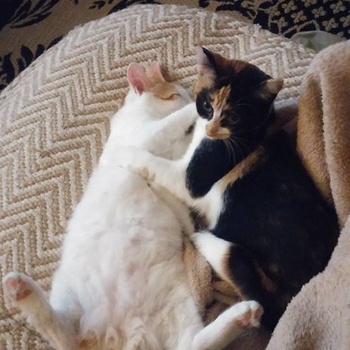 Once Max & I had plans to move to San Francisco and I knew that he would be in India for at least 2 months, I told him I would be needing company...in the form of kittens. It was only our intention to adopt 1, but then we saw this little calico devil chasing and pouncing all over this ball of white fur and we just KNEW they both belonged with us.

Pepper got her name because she is mostly black & red and because she was kind of a bitch, but "Bitch" wasn't a very nice name for a cat. Cricket was so fluffy that all his white fur waved in the wind and gave him this curious, playful look. He is always darting around and is so skiddish that he reminds us of a bug - hence Cricket.

Well, Max is now the love of Pepper's life. She has transformed into the most docile and loving cat. She likes to sneak into Max's lap for cuddles when she thinks he won't notice. Cricket chirps (like a cricket) whenever we walk into the room, and will carry on a conversation with us as long as we talk to him. He also likes to push stuffed mice up against our bedroom door as a bribe to get us to open it.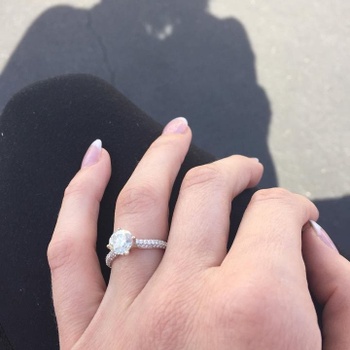 So how did he do it? How did the day I've been dreaming about for 27 years happen?

We had plans to go home to SC for an extra long week over Thanksgiving break. YAY - We miss home sooooo much. A month or so before vacay time, Max tells me that he has a surprise for me and that we are going somewhere secret for the first Sunday & Monday nights that we're home. Would he give me hints? NO! Would he tell me WHERE we were going? NO! He DID at least tell me to pack warm because it is late November (and cold, duh!) - but that wasn't very helpful!

The day before we we went home Max informed me that I would need a REALLY nice dress for a formal evening. OMG!!!!!!! 2 things entered my head: 1 - WHY do I need a nice outfit...what will we be doing??? and 2 - It's 6:00 pm the night I'm supposed to be packing & I have NO NICE DRESS! A long night of shopping follows shortly…

Fast forward to Sunday afternoon, we're in the car driving and he finally tells me we're going to the Biltmore House for two nights!!! He'd booked an amazing room at the Inn on Biltmore (which is like, CRAZY beautiful) with a view of the estate. Then he had a romantic dinner and a candlelit tour of the house planned for the evening! Let me just tell you, the Biltmore House decorated for Christmas is INSANE!

The next day (Monday) he had everything planned out, INCLUDING time for me to primp, get pretty, and not be rushed! This was the BEST part of the entire ordeal - the fact that he had pre-planned the whole trip, AND planned it so that I wouldn't have to rush (which stresses me out like WHOA)! The day started with a couples massage at the hotel - DIVINE! Then he had a picnic basket packed for us, which we picked up in the hotel lobby. Then we wandered around the property "aimlessly" looking for a place to enjoy it!

Queue: The Bass Pond. There was a picturesque little peninsula with a tiny tree floating right in the middle of the pond - it was PERFECT! We set up the blanket and I laid out our feast! I kept going on and on about how pretty it was that day. Then, a flock of ducks decided to fly off the pond surface right behind me, he grabbed a hidden BOX out of the picnic basket and asked me to marry him (in a special way that need not be typed out)! OH MY GOD YES! YES! YES!!! I cried so much, it could NOT have been attractive (but I'd worn waterproof mascara so it wasn't TOO bad). YES I'll marry this man! I've only been dreaming about it for 3 years!

Our celebratory picnic wine did not include a corkscrew, so Max bashed the top off the bottle on a nearby rock! #INNOVATIVE! The day wasn't over though, we had a beautiful day, filled with a horse drawn carriage ride, champagne tasting, and a fire-side candlelit dinner (hence the formal gown)! It was PERFECT, absolutely beautiful and sweet and romantic and happy. I felt like a princess! I still do. I can't wait to marry this man! I love him so much!